In line with sustainability, we strive for successful business, a reliable energy supply and a green energy industry for the future. Every process, every decision and every action should be guided by this. Sustainable business to us means continuously driving further development without depleting natural resources. A balance between economic, ecological and social matters is important here. To measure our progress and set targets, we are in dialogue with the independent ratings platform EcoVadis. In 2020-2022, we were awarded the Bronze Medal and are continually working on anchoring
sustainability and climate protection more strongly in our operations. As we help to shape the energy transition, we want to go one step further and report on important key figures and guidelines in the context of the three target fields of economy, ecology and social issues. EcoVadis is a company that specialises in sustainability ratings for companies and has now published ratings for more than 75,000 companies worldwide. VNG Handel & Vertrieb GmbH was awarded the Bronze Medal after an extensive audit based on international sustainability standards.
Image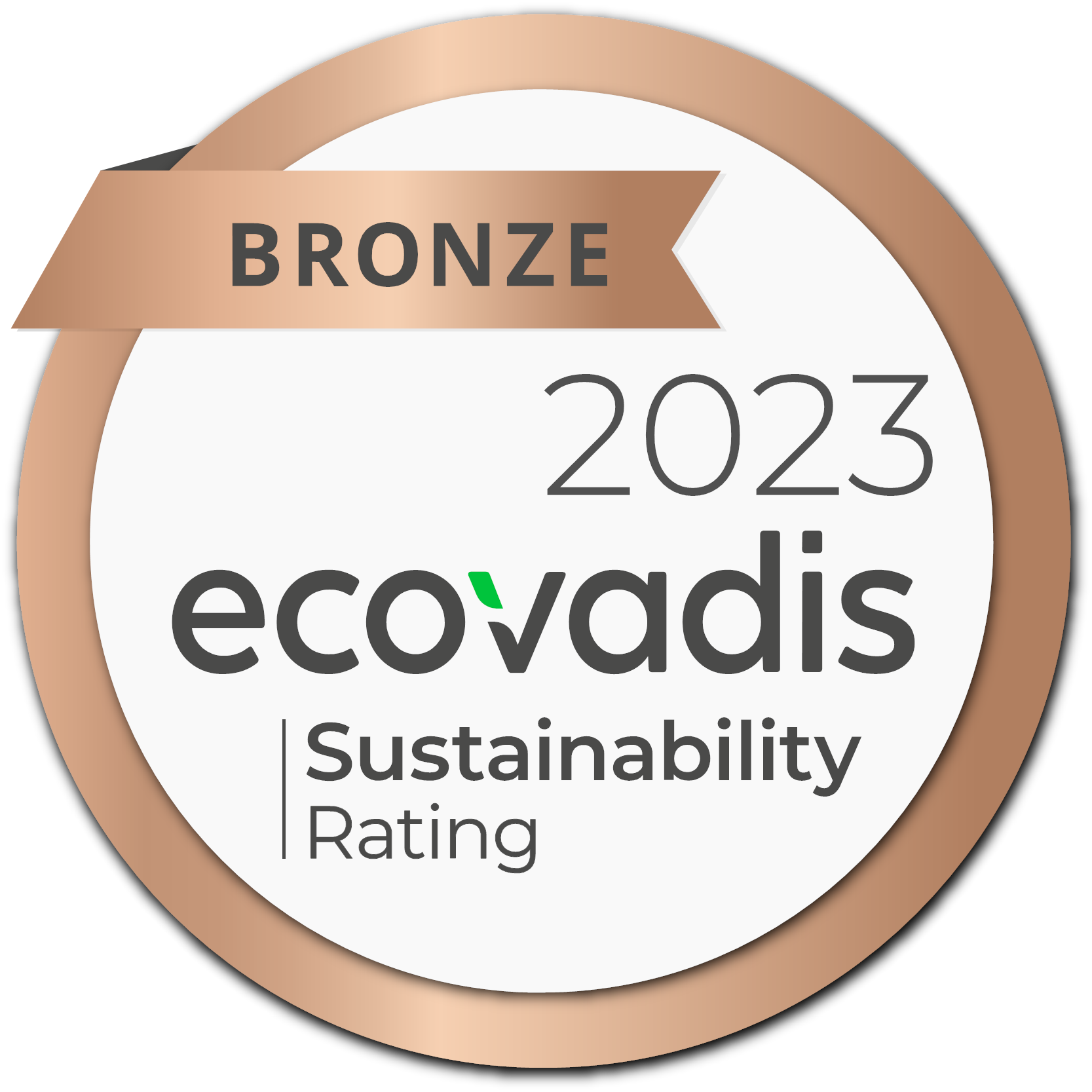 For our CSR activities, ECOVADIS awarded us the bronze medal in 2022.
This award is an incentive for us to further extend our commitment to sustainability in the future.
"In tender competitions in which we participate, we recognise that sustainability is becoming increasingly important and this is an area to which suppliers are also paying more attention. We are actively addressing this development in order to remain competitive and attractive to our customers. And with the Ecovadis rating, we can demonstrate that we are an absolutely reliable partner when it comes to the environment, labour and human rights, ethics and sustainable procurement."
Raik Santowski, Key Account Manager, VNG Handel & Vertrieb GmbH
Successful and sustainable business are not opposites, but offer new potential for innovation and value creation. In order to achieve the national CO2 reduction targets quickly and efficiently, we want to play an active role in shaping the energy transition. Together with VNG AG, we are pursuing the 2030+ strategy and continuously expanding our green range. This is why we are expanding beyond our core gas business and offering sustainably certified biomethane. In addition, we are taking our first steps towards the hydrogen economy with our involvement in the Bad Lauchstädt regulatory sandbox. Needless to say, in order to be able to meet
these challenges and to secure our entrepreneurial activities, compliance with the legal framework is essential. The code of conduct and other measures and tools help us to avoid risks of market manipulation, corruption and compliance violations. In addition, rules and regulations such as the Procurement Regulations, Business Partner Review and the General Terms and Conditions of Purchase support us in the selection of our business partners in order to exclude liability claims. These measures are supplemented by regular training and support from a compliance manager who acts as a contact person.
Climate and environmental protection are also important objectives with regard to our sustainability efforts. In addition to the strategic orientation towards biomethane and hydrogen as energy sources of the future, we would also like to make our own contribution as a company. This is why we report on our internal energy, paper and water consumption, waste volumes, and CO2 emissions caused by business trips. Documentation of the data provides information about the current state of development and forms the basis for future ecological objectives in the company. The consumption of resources should decrease in the future and business trips should be planned according to CO2 factors.
The choice of our IT service provider, GISA GmbH, also underlines our efforts to protect the environment. Green IT by GISA leads to significant electricity and CO2 savings and uses energy- and resource-saving cooling as well as hosting and housing services. The DIN EN ISO 14001-certified environmental management system ensures compliance with environmental measures. This low-CO2 partnership consolidates the environmental performance of our internal IT systems and processes. A further effort to work in a resource-saving way is converting various printed materials to 100% recycled paper and ceasing physical copies of invoices.
Key environmental figures
We have compiled the most important environmental indicators for you in our factsheet. If you have any questions about this, please do not hesitate to contact us.

Find out more 
In the area of social affairs, our focus is on employees. We deal with issues here such as human rights, diversity, working conditions and training. The corporate culture, family- and life phase-oriented HR policy and the protection of employees' health are particularly important for us. A core topic is the performance indicator LTIF, which measures the current status of occupational safety and lists accidents with lost time. Furthermore, with an attractive and fair remuneration system, health protection offers and measures, options for home office and mobile working
as well as diversity, we ensure a modern and friendly working environment that enables the compatibility of career and family. This also includes data security. The coronavirus pandemic in particular has led to a high degree of digitalised processes and at the same time increased the requirements. Social commitment is also an important part of the corporate culture of VNG Handel & Vertrieb GmbH. Under the umbrella of the VNG Foundation, VNG AG bundles social, cultural and welfare activities and projects in the fields of science, education, art, sport, culture and social welfare.  
Key social figures
You can also find an overview of our key figures in social welfare matters in the factsheet. Please feel free to find out more about this in detail.