Green, regional, carbon-neutral!
Our national biomethane product provides biomethane produced in Germany, tailored for use in the heating market, for combined heat and power generation or for greening your industrial processes. Volumes and capacities are customised to your needs. If you are adding biomethane to your energy mix to configure your 'Green Tariffs', combining your
biomethane supply with your natural gas supply is straightforward. If you are planning to use biomethane in cogeneration plants in accordance with the German Renewable Energy Sources Act (EEG), we provide the biomethane of the necessary quality for your plants. Balancing can take place both within your own balancing group or in the balancing group of VNG H&V.
Image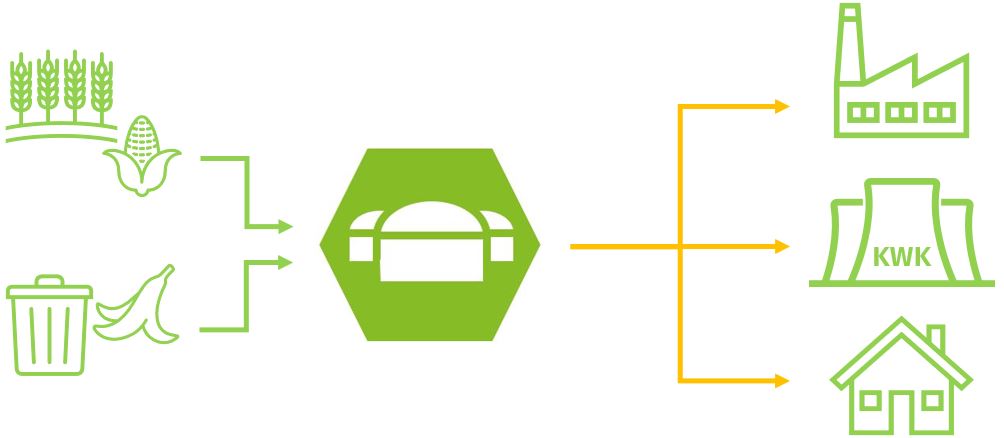 Our services at a glance
Supply of nationally produced biomethane of Bio-H and Bio-L quality

Needs-based delivery of biomethane tailored to your individual criteria

Supply as Flat Gas Delivery, Scheduled Delivery, Full Delivery and Freely Nominated Delivery

Under current regulation, no costs are incurred under the German Fuel Emissions Trading Act (BEHG) for biomethane volumes

Straightforward combination with natural gas deliveries from a single source

Fixed prices for the acquired volumes provide planning certainty for your procurement operations
Product sheet
Information on our biomethane products and services (German) can be downloaded here.
Your enquiry
Have we aroused your interest? Here you can go directly to our enquiry form.